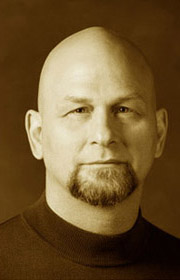 Edgework founder Ellis Amdur received his B.A. in psychology from Yale University in 1974, and his M.A. in psychology from Seattle University in 1990. He is both a National Certified Counselor and a State Certified Child Mental Health Specialist. He has worked in the field of crisis intervention since 1988
Ellis has authored eleven profession-specific books, some written with subject-matter-expert co-authors concerning tactical communication with seriously mentally ill individuals and verbal de-escalation of aggression. Target audiences for these books are those working in various law enforcement and emergency services capacities, those in social services and hospitals as well as families.  All these books are available at Edgework Books.
Amdur has studied classic Japanese combat arts for forty-seven years, spending thirteen of these years studying in Japan. He is a recognized expert in classical and modern Japanese martial traditions, and has authored three iconoclastic books on this subject. Information about his work in this area can be accessed at KogenBudo.
He has developed a range of training and consultation services, as well as a unique style of assessment and psychotherapy. These are based on a combination of phenomenological psychology and the underlying philosophical premises of classical Japanese martial traditions. Ellis's professional philosophy can best be summed up in this idea: the development of an individual's integrity and dignity is the paramount virtue. This can only occur when people live courageously, regardless of the circumstances, and take responsibility for their roles in making the changes they desire.
Ellis Amdur is a dynamic public speaker and trainer who presents his work throughout the U.S. and internationally.He has been a lead trainer for close to one hundred law enforcement and correctional institutions on crisis intervention related subjects. He is noted for his sometimes outrageous humor as well as his profound breadth of knowledge. Ellis's vivid descriptions of aggressive and mentally ill people and his true-to-life role-playing of the behaviors in question give participants an almost first-hand experience of facing the real individuals in question.
Ellis recently co-founded Gulla Amdur Associates, in collaboration with Don Gulla, a renowned expert on firearms and less-lethal weaponry, defensive tactics and Crisis Intervention Training (CIT). Ellis and Don have collaborated for a number of years, with a shared vision of integrating every aspect of establishing safety in dangerous interactions with emotionally disturbed individuals. Both share the viewpoint that one should never give up on an attempt at peaceful resolution through verbal de-escalation tactics, and at every moment, one should always be prepared to defend one's own and others lives by the best tactic available. Together, they offer training on everything from advanced tactical interactions with aggressive individuals for law enforcement and correctional officers to worksite and personal safety for ordinary individuals.